Accessories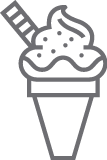 Are you looking for accessories for your ice cream parlour, gelato shop, chocolate shop or pastry shop?
We have everything you need: spatulas, spoons, labels, gelato pans, lids, cone dispensers and much more.
We are specialists in the world of ice cream; we have every product imaginable for you, directly imported from Italy.